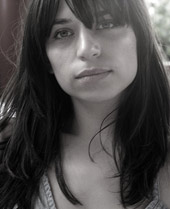 Stela Jelinčić was born in Zagreb, Croatia in 1977. She is working as an editor in one Croatian pop-art magazine, as well an the editor for the publishing house Konzor from Zagreb. This is her first book.
[extract] "The novel 'Weed is but a plant at a wrong place' is my first book. Maybe it will be the only one. Who knows. Basically, since I was born I feel I'm growing up in a wrong place, that my entire life is one big transition, so I point my spikes outwards. Like a hedgehog. But the nature wanted the hedgehog to have them like that. For me – the environment did it. As I wrote in my book: 'I am a walking defense mechanism. And who isn't? But I did my great train robbery long tome ago. I said 'did' because everyday I meet people who desperately pretend they are someone elese to themselves and to everyone else. I've evolved to what I wanted to be – entirely normal girl addicted to coffee, cigarettes and a daily dosage of hugging that should last nine minutes. Big eyes, big nose and big mouth – typical European woman; that's how my roommate in Denmark saw me, a Chinese, no European spotted that. And only I know everything about me and I know how to be myself, but at the same time, I boldly accept that I am – whether naked or with my clothes on, whether sleeping or eating, whether fucking or smoking pot – a walking self-defense mechanism weighing hundred and twenty pounds. And who isn't?'"


BOOKS
Weed is but a plant at a wrong place, novel, Zagreb, 2008
Journals by Day and Night, non-fiction, 2011


about 'Weed is but a plant at a wrong place'//
This is a novel about a generation that was deeply affected by the war in ex-Yugoslavia while they were in their teenage years. Although the novel digs preety deep into the psychology of its protagonists, this is above all a story of a certain time and place, a portray of a Croatian society; the collaps of all systems of values during the transition of the nineties. The novel traces about a dozen main characters who come from entire ex-Yugoslavia and who find themselves both in a real and virtual exile, and all that is happening while they are living through their 'best' years; they fgound their place at the edge of social and habitual deviance, exposed to criminal activities, drugs, prostitution – all that ranging from Zagreb to Amsterdam and back. Today, when they are in their thirties, the personal transition of each one of them is completed. The part of them that still doesn't rest at ease, lost itself in an anonimacy of the new social spectrum.